Quality
Do you need a stable quality and a continuous process optimized quality?
Our quality management acc. EN ISO 9001:2015 ensures it on a high level.
We are approved from different agencies for the manufacturing of special parts.
AD 2000 W0
VDTÜV 1253/1
PED 2014/68/EU
PreussenElektra GmbH license to KTA1401
ISO 14001:2015
BV MODE II SCHEME
DNVGL APPROVAL OF MANUFACTURER
Besides a works certificate EN 10204 2.1, 2.2 and 3.1, and certificate 3.2 you can also order your products with national and international accredited organizations approval (ex. TÜV, German Lloyds, Lloyds Register of Shipping, DNV, ABS and others)
All destructive and non-destructive controls can be done internally and at external labours in our region. We cooperate with independent accredited labours.
WE CONNECT QUALITY WITH SAFETY!
Here we found trust: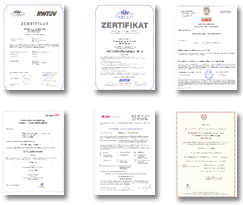 Please contact us and you will receive our quotation within 24-hours.